For a more comprehensive list see the relevant pages in LEOPEDIA
"LEO remembered – by the people who worked on the world's first business computers"
Second edition Edited by Hilary Caminer and Lisa-Jane McGerty
An anthology of over 80 vivid first-hand reminiscences of working on LEO. People who worked in all roles – engineers, programmers, operators, sales people – remember just what it was like in those exciting early days of business computing.
Copies of this book are available to buy from the Society at £8 plus postage and packing. Please contact Leoremembered@leo-computers.org.uk
Published, 2022, by LEO Computers Ltd. ISBN 978 – 1- 3999-3359-9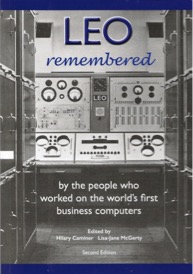 'LEO and the Managers'
by J.R.M. Simmons
The paperless office concept of the Lyons Comptroller, whose support was vital to the LEO project
Published by Macdonald, London, 1962
---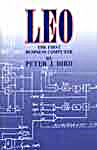 LEO : The First Business Computer
by Peter J. Bird
The first book to tell the story of J. Lyons' pioneering work in moving computers out of the laboratory and into the office. This illustrated history gives the background of how the company was founded as well as details of the development of Leos I, II & III, with many technical appendices giving various features of the machines.
Copies of this book are available to buy from the Society at £10. Please contact Secretary@leo-computers.org.uk
Published by Hasler Publishing Ltd. ISBN 0-9521651-0-4
---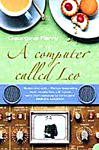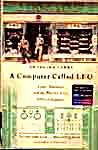 A Computer called LEO
Lyons Teashops and the World's First Office Computer
by Georgina Ferry
Recounts the extraordinary story of Simmons's mission: to create a Lyons Electronic Office, the first of its kind in the world. The birth of LEO placed Britain, for a moment, at the forefront of global business technology.
Published by Fourth Estate. ISBN 1-84115-185-8

now also available in paperback.

more information and reviews …

A Harper Perennial paperback ISBN 1-84115-186-6
---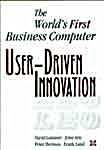 User-driven Innovation
The World's First Business Computer
by David Caminer, John Aris, Peter Hermon, Frank Land
The story of how the Leo came to be developed, with individual accounts of some of the earliest jobs written by the consultants who brought them to fruition. The authors were all part of the group that put LEO, the first busines computer to work..
Published by McGraw-Hill. ISBN 0-07-709236-8
---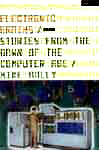 Electronic Brains.
Stories from the Dawn of the Computer Age
by Mike Hally
Inspired by the BBC Radio 4 series of the same name, Electronic Brains looks at the stories and people behind the early computers and gives them voice.
Published by Granta Books ISBN 1862076634
---